GET JUR DRAWZ ON.
I was just doing some dumb doodles before bed, ideas for NewArcadia(whateveritwillbecalled):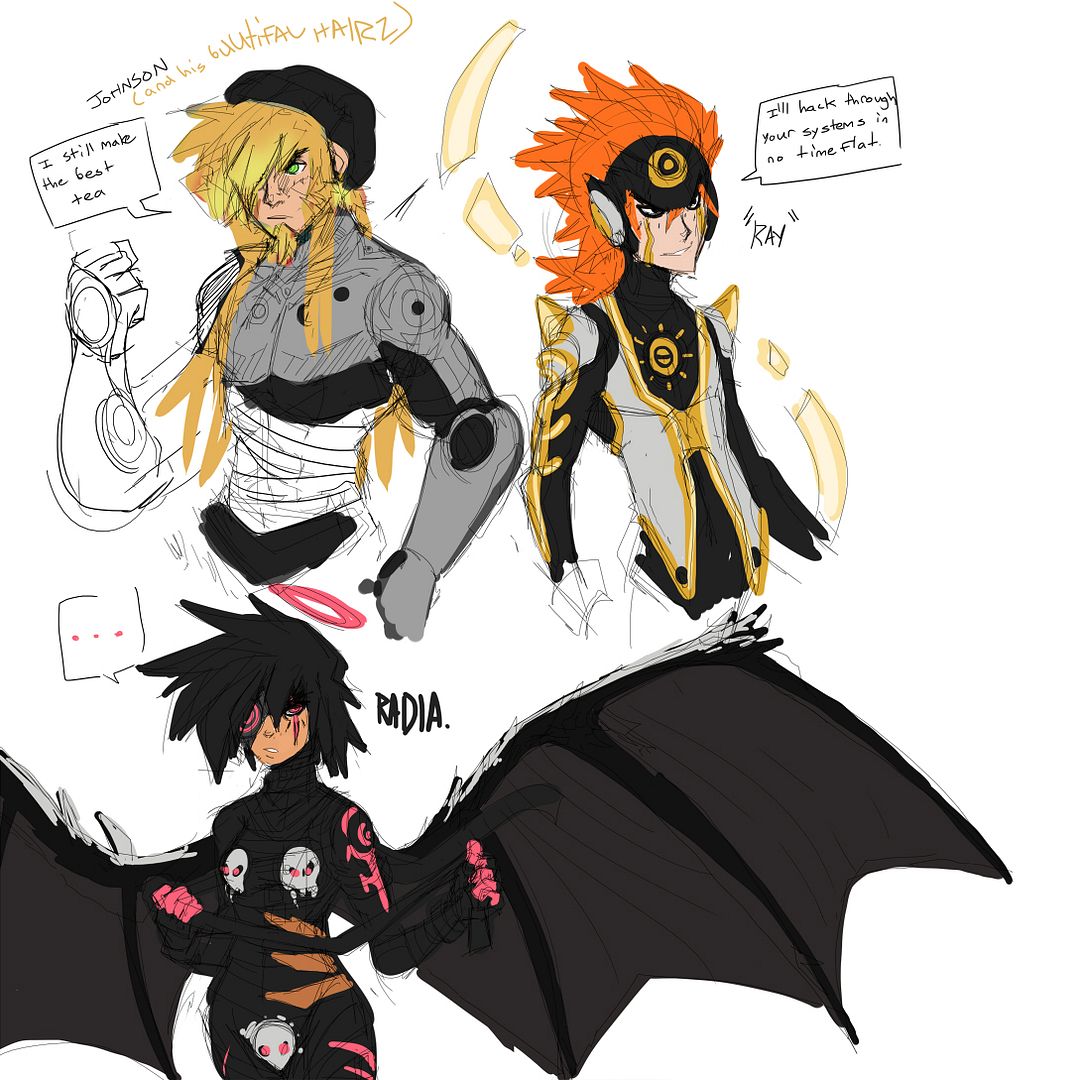 (if the forum is eating the image then:
http://img.photobucket.com/albums/v616/Cloudimus/WFA.jpg
)
Obviously still early lol. I dunno why I made Johnsons hair blonde, but its just a joke. And then I made it really really long.
Anyway Johnson was in a coma for a bit after my last fight with Ben. A couple years in fact, and during that time his body was modified to have cybernetic parts to replace the pieces that Radia totally destroyed. He doesn't pin the blame on her but she still feels super guilty because of it.
Then we have Ray, who can hack the world around him without the need of cables with a wireless signal he outputs from his head. He's pretty thin and agile. He also (obviously) has connections to Ray Crepuscula lol, name and all. He and Johnson are a team effort as mercenaries unaffiliated with any country. Ray is sort of the brains and Johnson is the dumb luck, as sometimes his colossal fuckups tend to make for great distractions for enemies. Ray's origin is unknown.
Then we have Radia who has been mutating since being bitten by Kensington. She's become an angel/vampire hybrid I guess by this point. So she still has all her powers from before but some of them are extremely amplified. She isn't as active in the daytime anymore though as it causes her irritation, but isn't damaging. She sometimes suffers bouts of pain because of her holy blood rejecting the vampirism. She also has been severely messed up by the fact that she pretty much killed Johnson 3 years prior. She stayed with him in the hospital for a month before facing a trial for assaulting a fellow soldier. The fact that she was an angel and had used magic basically had her cast out unfairly, so she was exiled from Levidia. She has no knowledge of Johnson being alive.